From 18th to19th of March in 2019, 13 experts of AMS attended the grand China international semiconductor technology conference 2019 (CSTIC 2019) which held in Shanghai international conference center.The meeting has AMT executive vice chairman Ben B.J. Tseng, AMT CTO Chung H. Lam and other leaders and technical experts.
CSTIC 2019 is one of the largest and most comprehensive annual semiconductor technology conferences in China and Asia since 2000.
The conference is hosted by SEMI, IMEC and IEEE, co-organized by IMECAS, and co-sponsored by PALL Microelectronics, AMS, Lam Research and other enterprises. In addition to the keynote speeches, nine panels covering all aspects of semiconductor technology focused on manufacturing and advanced technologies, including detailed manufacturing processes, component design, integration, materials and equipment, as well as emerging semiconductor technologies, circuit design and silicon applications. Hot issues such as artificial intelligence (AI) chips, neural computing technology, advanced storage technology, 3D integration and MEMS technology were also discussed.
The conference gathered nearly one thousand scholars from 15 countries to discuss the latest development trend of semiconductor technology.
AMS r&d experts Jane panyu read "A Sequential Shift Write Scheme for block Serial EEPROM Compatible with Phase Change Memory"at the conference. It is introduced to Phase Change Memory made of one million electric erasing programmable read-only phase-change Memory block (EEPROM), has completed by 40 nm CMOS technology development and puts forward the displacement of the Serial Write method. The maximum write current is sharply reduced by 62% to 75%.This chip operates through the serial data interface (SPI). The readout speed is 30 megabits per second and the maximum write speed is up to 1 megabit per second.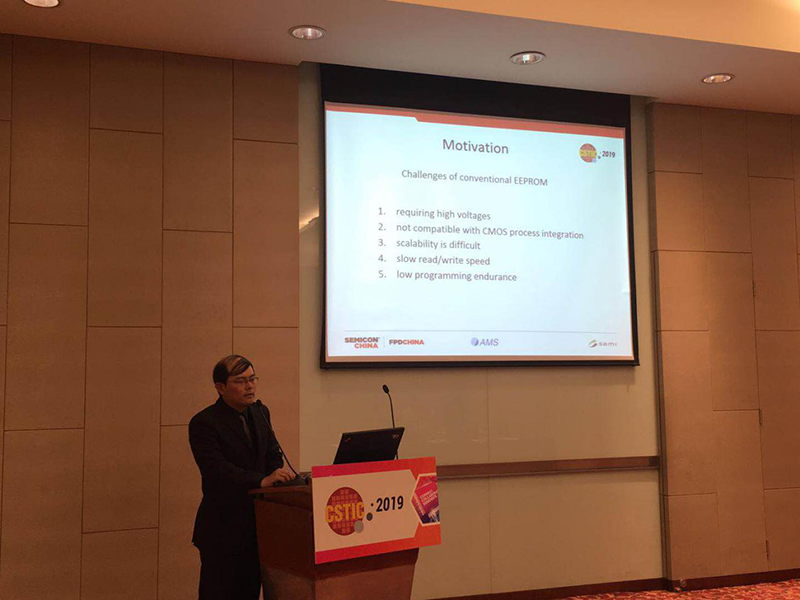 This seminar will play a positive role in promoting the technology level of China's semiconductor industry and introducing the most advanced international technologies and concepts into China.
13 experts of AMS attended China International Semiconductor Technology Conference