In order to fulfilling the six-high quality program of JS in this new era, and accelerate the high-quality development of JS semiconductor industry, in the morning of Sep 11, 2018, Ma Qiulin, Vice-governor of JS, talked progress of Huaian Industrial economic development condition;
Yao Xiaodong, municipal party secretary of Huaian; Zhang Guoliang, Executive vice mayor of the municipal government; and Zhu Xiaobo, Director of Huaiyin district.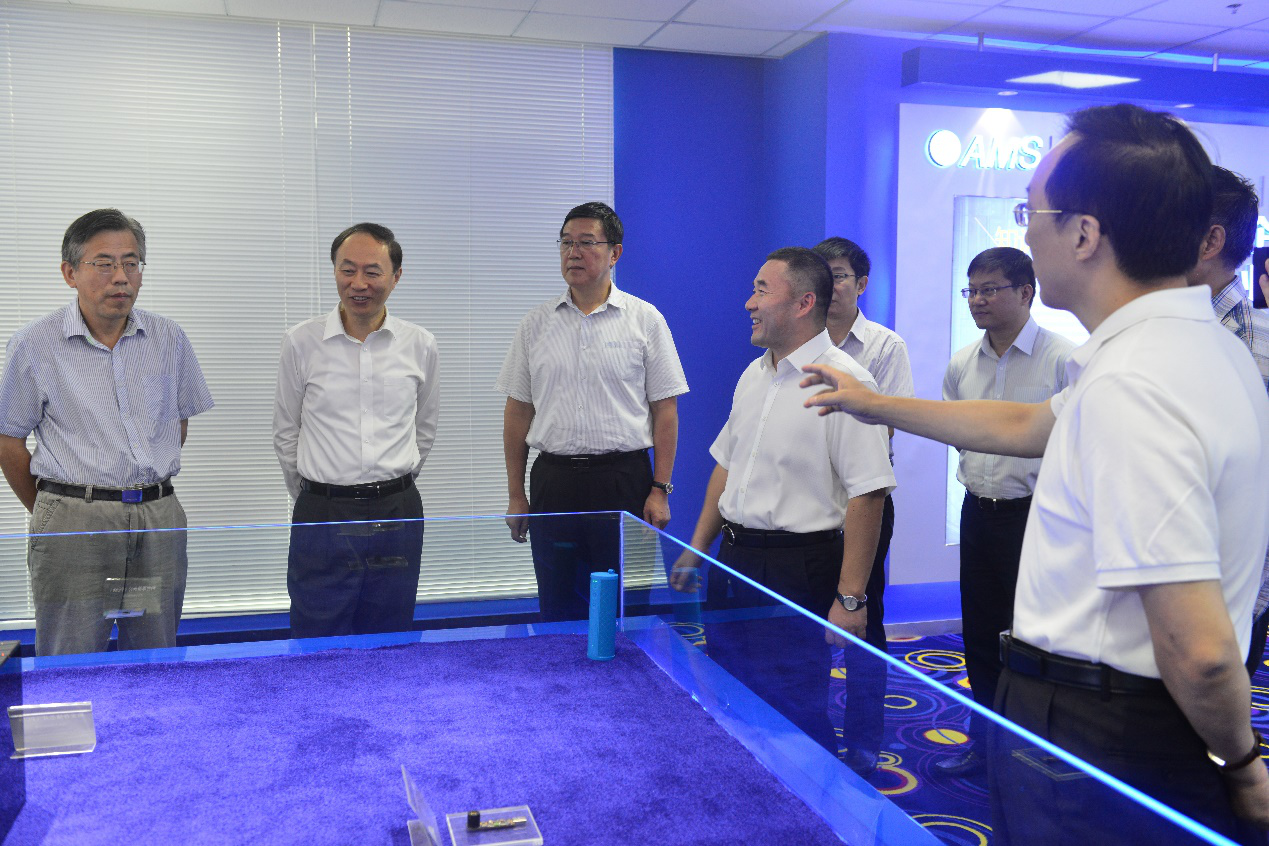 Left begin: Zhu Xiaobo, Ma Qiulin, Yao Xiaodong, Zhanglong
First, Vice-governor Ma, and his team visited the ground floor-exhibition hall, and then the fourth floor- PCM clean room area, and toured the entire factory by car. During the visit, Vice-governor Ma listened to the detail briefing from the AMS Chairman, Zhanglong, and AMS has collaborated with IBM in phase change memory since 2009, established 5 research centers in Beijing, United States, Taiwan, Hongkong, and Huaian. With 10 years of hard working, AMS has becomed a company with complete intellectual property and owns PCM technology self-innovation capability and production technology.
During the visit to the factory, Vice- governor Ma inquired AMS chairman, Zhanglong, about products technology support and future development direction, and challenges faced by enterprises. AMS Chairman, Zhanglong, expressed the challenge in raising the fund to support the enterprises. At last,Vice- governor  expressed that he was excited to see the local semiconductor enterprise with self-innovation proprietary intellectual property and a top talent team. At present, our Chinese semiconductor industry still has a large gap with World-class enterprise. It is indeed something rare and deserving praise that your self-developed products have the potential to meet the market mainstream demand. In order to inject the new energy into promoting the high- quality development of semiconductor industry, new targeted support policies will be established by Provincial government, focusing on solving the dilemma financing and insufficient capability for self-innovation of the local semiconductor enterprises, Provincial and municipal related departments should aggressively support the growth of the enterprises, and establish better support platform, and provide better support to the enterprises. Provincial government will be proactively helping enterprises in promotion, and expanding the marketing channels of products for the better development of the enterprises.
Improve self-Innovation in research and development level, promote local-semiconductor industry development ----Vice-governor of Jiangsu Province (JS), Ma Qiulin investigates AMS with its Industrial economic development condition